Wheee!!! I was knitting for a couple hours this morning and I started blocking the 2 year Merino sweater :)
Here's a pic of how far I've come on the Yukon Sox (SOCK for the moment ~ I do believe I'll have SSS on this one (second sock syndrome). But, I knit 24 rows on it this morning so am pleased. Only 2.5 more inches on the foot before I can decrease for the toe. I won't be casting on the second sock right away on this one, I know. Besides, I need to wash and block this one to be sure it fits well and the yarn does what I think it *should* do, which is bloom properly and soften up considerably.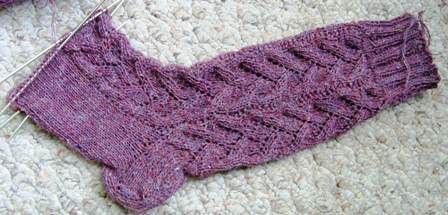 Now onto the truly exciting (for me, anyway!) THE 2 YEAR MERINO SWEATER IS BLOCKED AND DRYING AS WE SPEAK!!!! Well, I'm out of room for the back but I'm blocking both sleeves and the front. I'll block the back tomorrow :)

And here's the pic of what it's supposed to look like (Vogue Knitting Fall 2003) and a cable detail:


The yarn is a heathery purple merino I got from Zeilinger Woolen Mills forever ago and it was wonderful to work with. The big cable in the pattern was easy and fun to do! I've made the huge bulky knitted vest from the cover of this issue of Vogue Knitting (in brown wool with deer antler buttons) and there's at least one more sweater in that issue that I'd like to make.
Most of the time, Vogue Knitting has at LEAST one project I'd like to make but sometimes an issue will come along and I hate everything in it.
It probably looks like I'm a purple freak or something from the sox and the sweater, but I'm not. I've never bought one thing to wear ever that was purple but the alpaca/wool/nylon sock yarn was a cast off from hubby's sock knitting operation and seemed too good to pass up and, well, the merino was yummy!
So, it won't be long till the sock and the merino sweater are done, and I still need to finish the Soft Twist Cotton Tee, which I'm going to try to do this week. THEN I can cast on something NEW...so much more fun than UFO's, dontcha think?
COME ON LADIES......LET'S SEE WHATCHA GOT!