Selfish Sunday Knitting is alive and well...
For me anyway :) I've been buried under knitting for money projects. It's nice to get paid but it's never quite enough and it's a drag after awhile. I have a huge sweater that I need to finish (just the sleeves) for one of my bosses at work (no pressure there, eh?) and I finished and mailed out a huge shawl for a lady. I have to knit a shrug for my best friend out of her handspun, 2 purses for ladies at work, and a hat/scarf set out of wool/angora yarn that I still have to dye. But I did take a break after the shawl to knit some stuff for me :)
I don't know why I took a photo of this with spinning on it ~ it has nothing to do with the sweater!
This is the Berkshire pullover from the book Weekend Knits. When I first got this book, I didn't like it much but now I'm strangely attracted to a lot of projects in it. Anyway, I wish I'd been on Ravelry (I'm Yarn Or a Tale there) because I could have dealt with a couple of issues with this sweater. First, in yarn this bulky (it's knit on size 13 needles), the rolled bottom is NOT attractive in the least. It looks pretty bad on me, especially in the back. I have finished it except for weaving in ends, but I'm going to attempt to pick up and knit a hem. I want it a bit longer anyway, because there's a story with this yarn. I got it at Zeilingers, where I work. I know it doesn't felt because I had it for sale in my shop at one time and test felted it. It's a pretty stiff wool, but when you try to felt it, it softens up a lot and gets kinda fuzzy so when I started this, I planned to toss it in the washing machine for that effect and knit it pretty loose and big.
It's intended to be an Outdoor Chores sweater and something I can toss on and not worry about, it was a super fast knit and an experiment of sorts so I'm not overly obsessing over it. But, particularly with the washing thing, I want it a bit longer.
The neck is a tad smaller than I like and that's a recurring issue in the Ravelry projects too, so I would do that differently next time. And, I woud pick up less stitches for the sleeves and/or adjust the decrease ratio as well. It worked out OK but next time....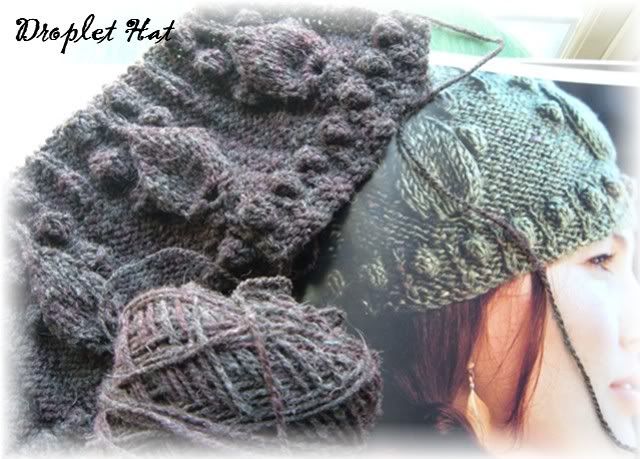 This was a spur-of-the-moment knit that just worked out so beautifully. One of those REALLY rare times where the yarn I had in stash was perfect, the pattern was perfect, the gauge was perfect on the first try.... It's the Droplet Hat from Knitting Nature by Norah Gaughan, whom I worship :) The yarn is a handspun jacob (spun and dyed by someone else ~ just check out that woman's perfectly handspun yarn ~ wow!) The yarn is very similar in color to the yarn in the book too ~ a very subtle type of shaded thing. Awesome!
It's finished completely, washed and everything, but I need to take photos of finished stuff still so that will come later. It's funny, because I am a confirmed hater of bobbles in knitting. Not doing them because I've never tried before, but I hate how they look! I still do on sweaters and things like that but they seemed really perfect for this little hat and Norah came up with a way of knitting bobbles that requires no annoying turning of the work, etc. Very easy, but a tad time consuming. Nevertheless, I knit this in a day pretty much. Started late at night on Saturday while Robert was out of town for drill, and finished Sunday morning during my SSK session. And it fits! I have a really hard time knitting hats that aren't huge for some reason but this one was perfect. Some folks think it's a smallish hat, but I have a pinhead so it's great for me :)
Onto some SSS (Selfish Sunday Spinning!)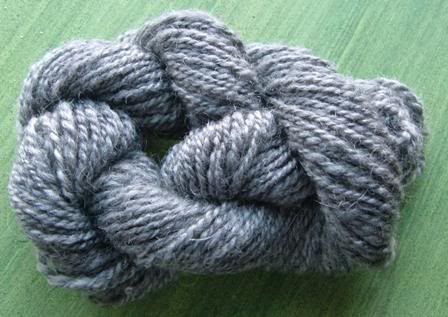 This is some really delicious roving spun up that I have for sale on my site. It's Kid Mohair, Merino & Tussah Silk and it's awesome :) I saved 12 oz for myself and will spin it as fine as possible for a little shell with detachable cowl that I want to knit, that's also in Weekend Knits. I'm not sure I can get the yarn fine enough but I can try :) This was spun on my wheel.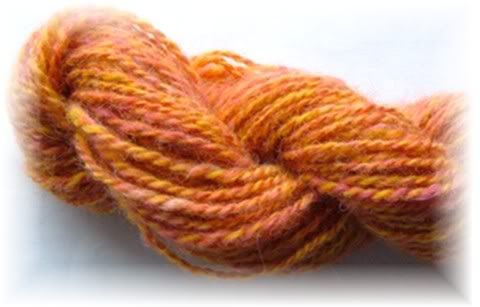 This is a sample I spun on my spindle for some other roving I have for sale, and it's a lot of fun. There's 80 yards there but I'll probably snatch some more and spin up enough for a smallish project of some sort. It's wool with a hint of angora bunny. Not super soft the way you might think but there's some nice buttery halo in there so it's next to the skin for the most part.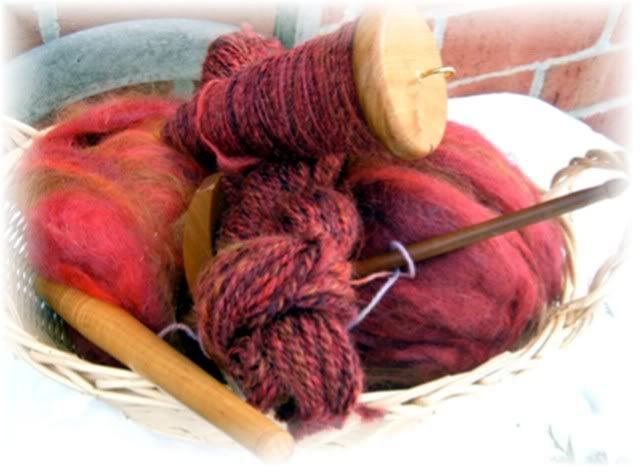 I was spindle spinning a pound of this for my Mom for Christmas and had some left over for myself. I do NOT give away or sell my spindle spun yarn but I do for Mom and I wanted something special. This was pretty expensive ~ $48 a pound! It's 60% alpaca with the rest being mohair and wool with some angelina in there. But I was kind of unhappy about it. When I pay that much for fiber, I expect it to be pretty much free of VM, which it was not, and I expect the dyework to be top-notch and not bleed through 7 or 8 rinses when I'm done.
Mom loved it though and that's what counts :)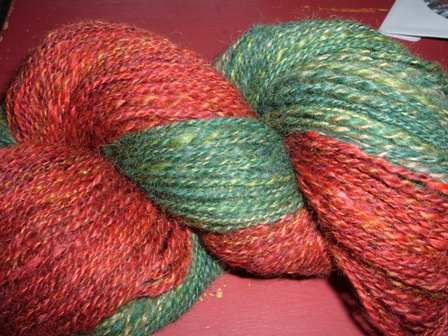 Here's what I have spun up for myself. I snagged some of the green, which is the same blend, from the mill out of the trashcan. It was the end of the run or what they cleaned off the carder and this had a lot of VM since it was pretty much the trash but I knew it would go with the red ~ it was from the same woman. The two colors go together really well and there's a couple hundred yards there, about a sportweight, so it's gonna be something someday!
That's it for me today! I've been working on cataloging my yarn stash so I can put it into a database (yes, I have THAT MUCH yarn!) There's no other way for me to be able to find something for projects I want to knit ~ this way, I can sort it by fiber type, amount, wpi, etc. and go straight to the box it's in and get my ass knitting! A lot of my problem was I'd find something to knit, know I had enough of something in the right weight SOMEwhere but not do it because it was too overwhelming to get in my room and dig for it.