EARLY HOLIDAY GIFT FOR MY SS KNITTERS!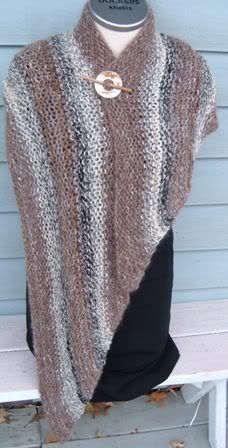 I finally finished my Nature's Way Fibonacci Wrap, which is for sale in my shop and on my website soon but I'm going to give a copy to my SSK Team! The only requirement for receiving the shawl pattern is that you must have posted to the blog at least once with pictures :) That's it! Email me if you want a copy and I'll send the PDF file to you. If you haven't posted yet, this is a good incentive to get busy and post with a photo! It's super easy and I designed it especially for handspun but you can use any yarn. There are a bunch of tips for changing the wrap in the pattern as well. You can actually knit this up in a weekend, no lie!
This one is my very own shawl which I haven't worn yet because it's a pita to get back on the stupid mannequin at the shop. It's not hard to get on ME (or your body) but for some reason pinning it exactly that way on the stiff mannequin is not so easy. You can wear this thing a bunch of ways...one really cute way is to pin it evenly in the front so it looks like a vest...cute!