Everyone is so quiet! I do hope you're getting some SSK done though! I have to confess that I didn't do a whole lot of knitting for myself this past Sunday either...the thing I've been working on is a store thing but, ultimately, it's mine! I'm working on a Fibonacci Wrap out of natural colored handspun in primarily alpaca, with some angora and mohair in there in some of the yarns. I decided to do it after I made this for the shop for a fun Scarf of the Month Halloween project:
I wasn't real serious about it...just wanted to make something fun and wacky for Halloween but I ended up falling in LOVE with the bias design...the shape is just so cool! You can wear it like it's pictured (I used a plastic spider ring that has a split at the bottom for a shawl pin!!), or just let it hang over your arms and it stays in place OR you can actually pin it in front and it looks like a cute little vest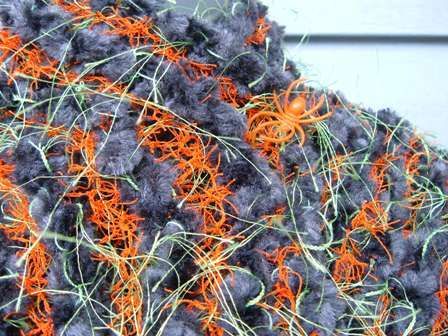 SCARY SPIDER DETAIL!
I was sooo excited I grabbed up some of my handspun, first an alpaca/angora blend in natural brown and white but was only 228 yards so I started thinking about the whole Fibonacci thing, and I found four other small skeins in naturals to add to it...most of them alpaca blends with one of them being the jacob/mohair yarn I used on the cabled earflap hat in my previous post.
I've just been fascinated by the whole Fibonacci thing because I love to mix yarns and dislike it not looking orderly, for the most part. So I chose to cast on in Fibonacci numbers, and also chose the number of different yarns that way and planned the rows/stripes that way as well. It's turning out really great, but I had such a hard time trying to figure out how many to cast on for the whole bias design...I know, I know...IT'S NOT THAT HARD! But I have a bad time conceptualizing certain things and that whole shaped bias thing was messing with my head!
There's how the striping and colors are working out together. I deliberately chose all marled yarns for it because I wanted to see how they work together and it's in garter stitch because I want the yarn to speak out, not the stitch pattern. Plus, garter gives it a nice drape, I think. I'm using bigger needles too, for that drape reason as well. I'm still not entirely positive I'll be happy with the length but it sure feels right so far. It'll end up being about 14 inches wide, so a pretty generous wrap without a lot of bulk. The yarns vary a bit between worsted and slightly bulky.
People aren't into natural colored yarns so much these days and I just don't get it. So, I wanted an example for the shop showing how wonderful they can be (particularly handspun!) And I can sooo see myself this fall and winter and spring even, wrapping that around my shoulders over a sweater for a quick trip across the street when I'm working :)
Needless to say, I have a bunch of patterns to write in my very near future! I have three for Halloween projects to write up and now this one.
I've been working on my Sheep Shawl too...I'm up to row 79! It's going fairly well, I haven't had to tink for a while now so that's always encouraging. I'm into the Orchard lace rows now :)
That's what I've been doing this weekend...what about the rest of you?