Yoohoo Selfish Knitters ~ What's up? What are you knitting?
I'm sorry I haven't posted recently but I'VE BEEN KNITTING! I finished TWO (count 'em ~ 2!) projects for ME! Up first...the 2-year Merino Sweater is DONE! Yay!
I'm so proud of myself! I *like* this sweater! I wear this sweater! People notice this sweater! I do have a couple other sweaters I've knit and they're ok, but not what I'd call fabulous. One is a sloppy acrylic boucle/terry cardigan that I actually like but it's not awesome. And I have a white cotton sweater that doesn't fit properly and is destined to go to the shop for sale, I believe. I do have a hooded bulky vest that I like a lot and I do wear it but THIS is my best sweater yet! I do need to tack down the bottom of the cable so it doesn't flare but other than that, I've been wearing it :)
My Mom helped me out with the mattress stitch in the finishing and wow! What a difference THAT makes! I actually don't mind sewing seams when they turn out as well as that.
After I finished that, I was looking through that same magazine...I've mentioned that I made the hooded vest from that issue (Vogue Fall 2003) and now the merino sweater and NOW THIS....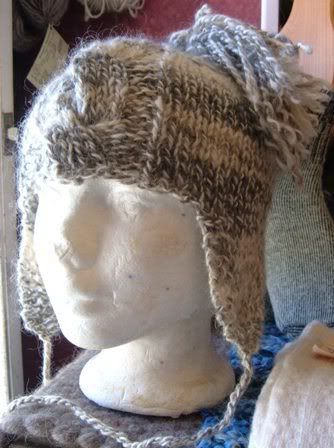 Sorry...the poor mannequin head is a little worse for wear but HOW CUTE IS THAT HAT? I made it out of some of my very favorite handspun...a little jacob/merino/mohair that I spindle spun ages ago. Very soft, bulky weight and it was perfect for this hat, which I knit in an evening. I had spun the jacob/wool and the merino/mohair as separate singles then plied them together. It's cool how the yarn striped itself somewhat and this stuff was such a dream to knit! My very first handspun garment for ME!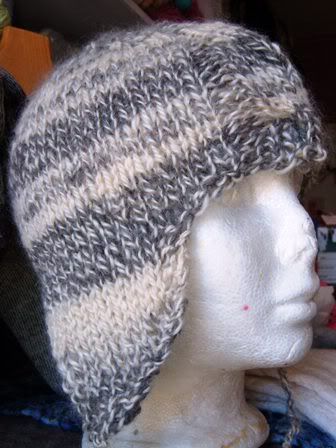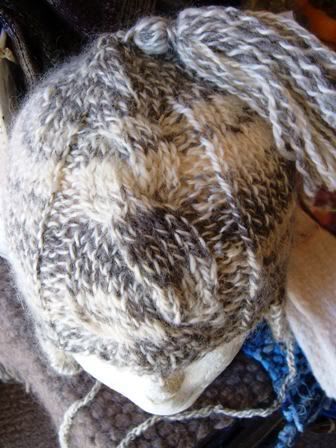 And here's the cute cable! I made the twisted cord ties on the spinning wheel. I thought about doing it with my mixer or by hand then went "what? WHY? I have three spinning wheels!" Worked out great and only took a minute!
Not yet impressed enough? (roflol!) Well, here's some lace knitting I've been working on. It's a KAL I started at the shop and online but it qualifies since it's for ME...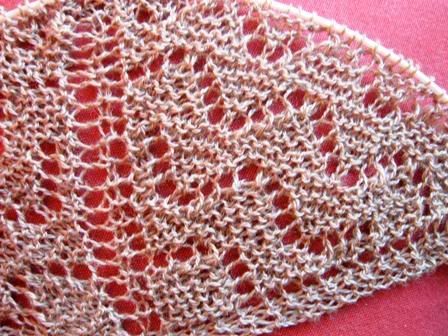 It's the Fiber Trends Sheep Shawl and what a piece of work! I wouldn't call it impossibly hard at all but it's a challenge, that's for sure! I got to row 13 and ripped it all back and since then, after 70+ rows, I've had to tink about 3 times and what an ordeal THAT is...yikes. We're just starting it so if anyone wants to join in, check out the yahoo group.
Most of us are working it in Jaggerspun Zephyr...I'm using Suede:) The photo above is about 30 rows or so into it and those are the Sunshine rows. Next up, in a couple of rows as a matter of fact, are the Orchard rows. I'm a lot farther than the pic there shows. The border is scaring me a little bit but plenty of time to think about that MUCH later. It's going a bit faster than I thought though, and I'm really enjoying it. I even learned how to do a crocheted provisional cast on, can you believe it?
One day, those Yukon Sox will be done...well, ONE Yukon Sock. One day....soon...maybe....