Lookie! I
finally
finished both halves of
Knitty's eyelet skirt
that I started last year for myself and have had trouble convincing myself to work on ever since. :D The cat keeps waking me up at five a.m. to be fed (nice kitty ... ;P), so I went ahead and did the last few eyelet lace rows and the picot edge this morning. Ta-da!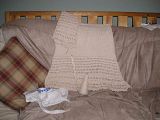 Obviously not seamed yet, but I'm waffling on whether to actually block the pieces first. Usually I don't, but on the other hand ... if it'll make them behave better while I'm sewing seams, then why not? ;) Hopefully I'll decide by tonight and have the next step done, anyway.
Just in time to potentially wear out to dinner on my birthday, or some other time this Birthday Week. :D Whew!