Huzzah! Finally I'm making a post! I had a fit of knitterly selfishness and whipped up a
Calorimetry
for myself, inspired by my Mystery Skein Swap partner
Elabeth
's two versions. It's knit in a soy/wool blend I bought one skein of at Michaels and can't remember the name of. ;)
Here it is without the button and with the tails not yet woven in (this is a clickable thumbnail):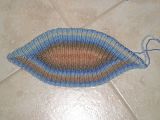 And here it is on me (this
isn't
a clickable thumbnail ;)):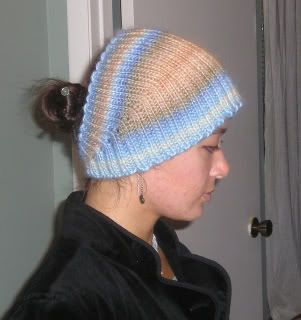 I love the way the color blend turned out, and I've already worn it around quite bit. Yay! It's exciting to actually have made something for myself. ;) I've also been working on a cotton A-line skirt for several months now, and I finished a mini version of
Knitty's Intolerable Cruelty
at light-speed last month for a Christmas party, but I don't have a photo of that yet. Phooey. ;D Anyway, whew. I'm finally an "active" member of the SSK club -- selfish knitters, unite!